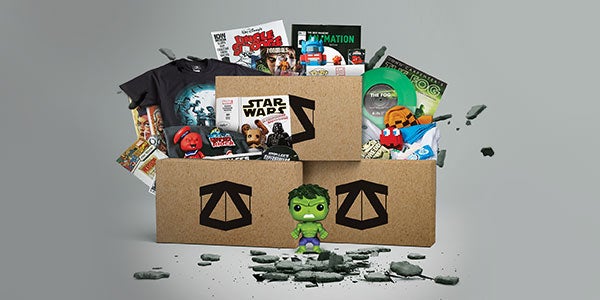 MYSTERY BOX PER NERD
Con un tema diverso ogni mese, ZBOX ti offre prodotti di merchandise esclusivi e con licenza ufficiale ispirati ai film, serie tv, fumetti e videogiochi più popolari della cultura pop.
- Tra 4-7 prodotti di valore superiore a 45 €.
- Include un design esclusivo di t-shirt.
- Sconti su abbonamenti di 3, 6 o 12 mesi: usa il codice ZBOX e ottieni la tua prima box a soli 10€.
Accesso al VIP Club con vantaggi esclusivi per gli abbonati.
FREQUENTLY ASKED QUESTIONS
We aim to get our boxes despatched before the 24th of each month. If there is any delay in getting the boxes out we will send you an email in advance along with estimated date of delivery for your order.
We take payment for all subscriptions on the 1st working day (or closest to) of each month. This payment relates to your next despatched box.
You have 14 days to cancel your subscription from ordering your first box*. During these 14 days or your 'cancellation period', you will need to contact our Customer Service team who will be more than happy to help you with your request. 
For your 2nd and subsequent boxes, cancellations are open from the day of despatch and for 14 days thereafter. Following this period, you will not be able to cancel your next box as it will be in the process of shipping.
*Please bare in mind that boxes are despatched between the 10th and 15th every month. Ordering any date after this may result in having to wait until next month's box.
Please log into the 'My Account' page to contact our Customer Service team who will be happy to assist you with your cancellation.